W
hen
Nancy Brandon was born in Atlanta, Georgia, she thought she was home, but after only a few days, her parents took her south and said, "You really live in Hawkinsville." As her mother edited and wrote columns for the Hawkinsville Dispatch and News, Nancy worked as a paper girl to support her fledgling writing career. Unsuccessful at selling stories to the local newspaper, Nancy eventually self-published Laurie Rides a Horse, which she wrote and illustrated on typing paper bound by three staples. Her grandmother, children's author Sydney K. Davis, declared the work worthy of a Pulitzer, and that was all Nancy needed to keep writing. But her subject matter turned to more academic topics as she earned undergraduate and graduate degrees and as she taught college composition in Savannah. After publishing four college writing textbooks, she turned her attention back to fiction writing. Her Amazon best-selling novel, Dunaway's Crossing, came out in 2012 and finaled for the Georgia Author of the Year Award. Next came Decades of Southern Stories, followed by Show Me a Kindness, which she published in 2017. Drawing on her small-town Georgia roots and her affinity for the past, Nancy writes stories about overcoming obstacles that come from living in the rural South. She still lives in Savannah with her husband and two sons. When she's not writing, she's either baking brownies or walking around a nearby lake looking for turtles.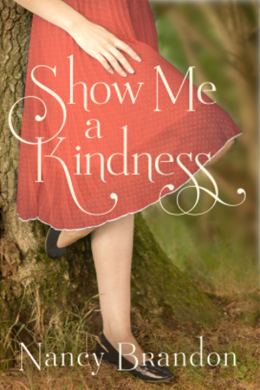 Show Me a Kindess
As America plunges into the Great Depression, Marthanne Hendrix finds herself in rural Vidalia, Georgia, with no memory of how she got there. Bewildered when the neighbors call her Oma, Marthanne is haunted by memories of another life—and another self. With the help of Comfort, a domestic worker living with her own tremendous loss, Marthanne discovers that Oma is another distinct personality inhabiting her body. In a time when mental illness is taboo, Marthanne and Oma's simple, small-town life is fraught with complexity and danger.
With gossip running rampant, Marthanne and Oma will do anything to avoid their greatest fear: commitment to an insane asylum. Only by relying on Comfort's kindness can they navigate their uncertain future. Friendship becomes sanctuary, and the quest for an ordinary life leads to an extraordinary bond.
Deeply moving and exquisitely wrought, Show Me a Kindness is a haunting novel of love, survival, and hiding in plain sight.
In her second novel, Nancy Brandon gives us small-town Georgia of the early 1930's, with colorful period details, pitch-perfect dialogue, and an accurate portrayal of the customs of the era. How lucky are the readers who will meet these exquisitely drawn characters who live, love and struggle on these pages.